What is in that bowl of pink water?
Chalk paint, of course!
I have been eagerly awaiting Annie Sloan's new book,
Color Recipes For Painted Furniture.
She dyed a linen sheet with chalk paint...what???
I had to try it, so last night I grabbed my can of Scandinavian Pink and gave it a try.
Annie says 1 part paint to 20 parts water-
add more or less according to the depth of color you want to achieve.
She used Aubusson Blue for her sheet...see her in the photo?
I wasn't going to experiment with one of my vintage linen sheets,
so I grabbed a simple cotton dishtowel and a piece of linen from a pair of white pants that I'd ruined.
The dishtowel really soaked up the paint and left the water a cloudy white.
The paint had only settled to the bottom though, and there was plenty more to play with.
I wrung out the towel, not rinsing and hung it til almost dry.
I then put it in a hot dryer for 10 minutes, hoping it set the dye.
Annie doesn't set hers with anything.
She did, however, wash a piece of the blue sheet with white linen and got
a "delightful and delicately washed out blue".
The 'dye' is uneven in places, which really appeals to me for some uses.
It looks aged and worn, which is the effect I want.
that the chalk paint deposits unevenly as it's absorbed.
Look back at the dishtowel and linen photo-
I added a drizzle of another brand of chalk paint that happens to be
a few shades darker and more terracotta in tone.
That resulted in a more peachy, pale terracotta.
The AS Scandinavian Pink is really pink.
Some say it's not, but it is pink to me.
Is it colorfast? I doubted it.
Well, I also threw in a white tee from Target and did the same process.
This morning, I went to the sink, soaked the tee in hot water and soap and to my surprise...
my white sink didn't have a bit of pink in it.
It held!
I'm going to try a richer, darker color today and will post about my results.

I pre-ordered my book from Barnes and Noble, but it's out in the stores now I believe.
It's around $16 and filled with 40 projects, fabulous ideas and paint color recipes.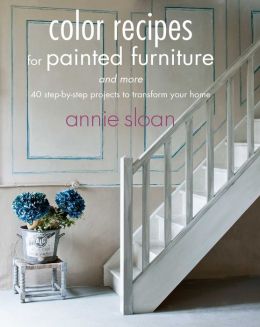 See Annie's new book
HERE
Sophie looks pretty in pink, don't you agree?
She loves her new
kitchen towel
scarf.
She's a proper Corgi.
Thank you, Annie!
You've given us even more ways to play with your chalk paint.


And we love it!
I sewed up a few lavender drawer sachets with my linen scraps.
And yes, stitch police...I know they are off center.
They are scraps...
Nothing Will Happen.
wink. wink.
Go play, my friends!
Part 2
here
Linking up to:
Feathered Nest Friday
Simple and Sweet Fridays
Tickled Pink
Be Inspired
Shabbilicious Friday

Disclaimer:
Not affiliated with Annie Sloan or Barnes and Noble.
Just sharing with Annie fanatics everywhere.
No Corgi was harmed in this photo shoot.
She was compensated by WWK for her participation, however.